How to Apply
How to Apply
To conduct your research with DPRI, there are two ways to apply. One is to apply to Kyoto University Graduate Schools to become a master's or doctoral (degree seeking) student and then be assigned to one of the DPRI laboratories. The other is to apply to DPRI to become a research student (kenkyusei) or short-term international student (both non-degree seeking status).
Please click [here] if you have any questions about Kyoto university admission.
Apply to Kyoto University Graduate Schools
DPRI hosts graduate students enrolled in the Graduate School of Science, Graduate School of Engineering and Graduate School of Informatics. Although, those who wish to enroll as master's or doctoral student must pass the entrance examination of the relevant graduate department, we strongly recommend to consult with a DPRI faculty about your research in a laboratory of your choice.
For details of each laboratory in DPRI, please visit the websites linked from the left side of the chart below, DPRI Laboratories, and for the admission information of the Graduate Schools, visit the links on the right side of the chart below, Kyoto University Graduate Schools Admission Information.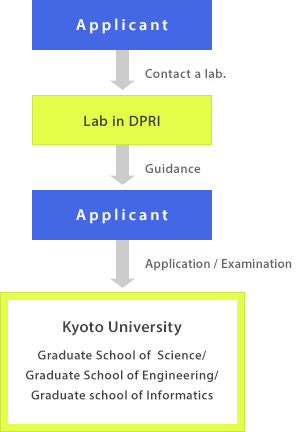 Apply to DPRI to be Research Student/Short-term International Student
Those who wish to conduct research with DPRI may apply for the status of research student or short-term international student. To qualify for this status, applicants must contact and obtain approval from a prospective advisor, who may be selected by searching the Activity. Applicants must then submit an admission form and other required documents to the University.
Detail is [ here ]
Admission Information of Kyoto University Admission
More information about Kyoto University