Prof. Andrew Collins, Northumbria University, UK – Recipient of the 6th DPRI Award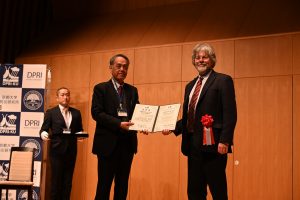 Prof. Andrew Collins, Northumbria University, Newcastle, UK was honoured with the 6th DPRI Award for Outstanding Contributions to Research and Education recognition. The Award was presented by Prof. Manabu Hashimoto, Director, DPRI, Kyoto University to Prof. Andrew Collins on 20th February 2020 during the DPRI Annual Meeting held at DPRI, Obaku Plaza, Kyoto, Japan from 20th to 21st of February 2020.
The DPRI Award honours individuals and organizations that have contributed towards various joint research projects and activities of DPRI, Kyoto University undertaken in Japan and abroad.
To commemorate the occasion, Prof. Collins delivered a lecture on the "Progress and Prospect for Action Data in People Centred Disaster Risk Reduction and Resilience Building".