Fifth International Symposiums on Human Survivability
Date : 21 Nov. 2016 - 22 Nov. 2016

Symposium
| | |
| --- | --- |
| Date | 21 Nov. 2016 - 22 Nov. 2016 |
| Place | Shirankaikan Inamori Hall, Kyoto University |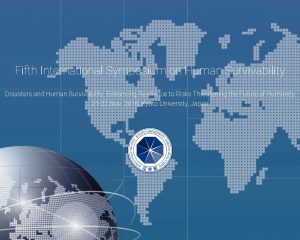 The Graduate School of Advanced Integrated Studies in Human Survivability (GSAIS) will organize the Fifth International Symposium on Human Survivability to provide a fresh look at the global challenges facing humanity in areas such as energy, water, food, population, diseases, etc. This year's symposium will focus on enhancing resilience to extreme, or large-scale disasters that may threaten the well-being of present and future generations. We aim to develop a holistic approach that integrates various research fields by considering the past, present and future dimensions.
The Symposium will be held at the Shirankaikan Inamori Hall, Kyoto University, Japan from 21 to 22 November 2016.
The symposium will bring together scholars from natural and social sciences, as well as humanities. The idea behind this is that we need to go beyond the "silo-based" approach, where handling disasters is something left to experts with specialized knowledge. The integration of the knowledge of scholars from different academic fields and backgrounds could be expected to provide some novel solutions to the problem of how enhance our resilience to future disasters.
For further information, please send an e-mail to organizers.
Email: symposium2016@gsais.kyoto-u.ac.jp