The 27th DPRI Public Lecture Series 2016, Kyoto University
Date : 02 Jun. 2016 09:30 - 16:30

Lecture
| | |
| --- | --- |
| Date | 02 Jun. 2016 09:30 - 16:30 |
| Place | Schönbach Sabō Conference Hall -シェーンバッハ・サボー – 1st Floor, Chiyoda-ku, Tokyo |
Date and time: (Thursday) 2 June 2016 from 09:30 to 16:30
Online Streaming:
Access the following link for online streaming: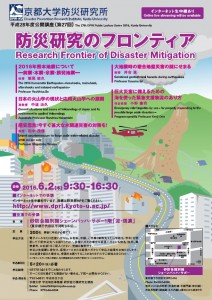 Capacity: 300 seats
Admission is free. However, prior registration is required.
Registration:
Advance registration is required. Please send an e-mail to kokai28@dpri.kyoto-u.ac.jp with your name and affiliation.
Registrations would be accepted on first come, first serve basis, until all seats are booked. Once your registration is confirmed, you will receive a notification. If you do not hear from us, please send an e-mail to: kokai28@dpri.kyoto-u.ac.jp .
* Note:
Your personal data would not be used for other purposes other than for registration to this public lecture series.
Please note that this event will be in Japanese. English interpretation will not be provided.
The Public Lecture Series aims to foster audience participation and you are encouraged to engage with the speakers during the question-and-answer sessions.
Program
9:30 – 9:35
Welcome Remarks
Prof. Kaoru Takara, Director, Disaster Prevention Research Institute (DPRI)
9:35 – 10:05
2016 Kumamoto Earthquake – foreshock – main shock – aftershock – induced earthquakes
Prof. Yoshihisa Iio
10:10 – 11: 10
What is a Large-scale Eruption: Case Study of Sakurajima and Indonesian Volcanoes
Dr. Haruhisa Nakamichi
11:15 – 12:15
Measures for Serious Water-related Disasters
Prof. Shigenobu Tanaka
12:15 – 13:15
Lunch Break
 
13:15 – 14:15
Approaching the mystery of compound ground disaster at the time of a major earthquake
Prof. Susumu Iai
14:20 – 15:20
Using the martime sector to prepare logistics for catastrophe Emergency assistance
Prof. Kenji Ono
15:20 – 15:35
Break
 
15:35 – 16:25
General Discussion Session
Prof. Akira Igarashi, Moderator
16:25 – 16:30
Closing Remarks
Prof. Norio Maki
The DPRI Public Lecture Series is certified as a CPD Program of the Japan Society of Civil Engineers.
Registration:
E-mail: kokai28@dpri.kyoto-u.ac.jp
Tel: 0774-38-3350
Access to the Event Venue:
Schönbach Sabō Conference Hall -シェーンバッハ・サボー – 1st Floor, Japan Sabo Association
2-7-5 Hirakawacho, Chiyoda-ku, Tokyo
(Subways: Yurakucho Line, Hanzomon Line, Namboku Line – Exit no. 4)
Tel: 03-3261-8386