Seventh Twilight Cherry Blossom Viewing Concert at Uji Obaku Plaza
Last Friday, 8 April 2016, the 7th Twilight Cherry Blossom Viewing Concert (Tasogare Hanami Concert) held at Kyoto University, Uji Campus Obaku Plaza with an overflowing audience, presented a marvelous programme of music comprising the Uji Junior High School Brass Band and three other musicians from Uji – opera singer Rie Fukahata and pianists Yoshie Suzuki and Kyoko Yamanaka.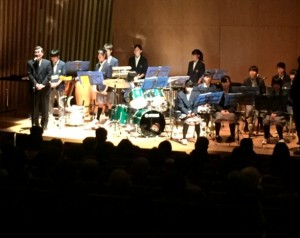 The Uji City Mayor Mr. Tadashi Yamomoto proudly presented and enumerated the talents of the Uji Junior High School Brass Band, and he did not boast. With skillful mastery of the instruments, movements and constant connection with the audience – the band displayed an outstanding performance which included among others "theme from Lupin III '78 (ska version)" and a great Enka medley. The second half was taken over by the three musicians – the rapturous "Boogie into Yokotsuka" had the audience clapping while the vocal spellbounded the audience with performances including "Sakura Sakura"and "Ardor gl'incensi (from the opera Lucia di Lammermoor)" – giving the audience an exceptional experience of communication between the piano and voice. The master of ceremony was none other than Prof. Takashi Maruyama, Vice Director, Disaster Prevention Research Institute (DPRI), Kyoto University and the concluding remarks were delivered by Prof. Kaoru Takara, Director, DPRI, Kyoto University. As Prof. Takara mentioned, the Uji Junior High School Bras Band excelled as Japan's No. 1 band while the three musicians to the international levels in their respective performances. It was a great concert. What a wonderful Spring evening for Cherry blossom viewing!