Introducing the Concept of "WINDOW" at the Disaster Prevention Research Institute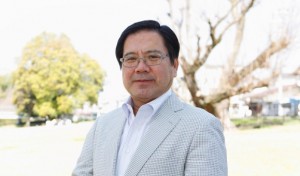 Director
Kaoru TAKARA

With the renewal of the Kyoto University homepage, the Disaster Prevention Research Institute (DPRI) also redesigned its homepage just in time for Spring, I hope you find it informative and user friendly. Should you have any suggestions or recommendations to further improve our website, please share these with our Public Communications Office.
Recently, President Juichi Yamagiwa announced a new initiative called "WINDOW"– an initiative to be a "window" to the society. In other words, "the university must be a place where academic endeavor can proceed undisturbed, while also providing "windows" into the world and society." Bearing this in mind, the following keywords were chosen to define WINDOW by the President Yamagiwa:
For further information, please refer to:  http://www.kyoto-u.ac.jp/window/
| | | | |
| --- | --- | --- | --- |
| Acronym | Definition | Relationship | Message from the President Yamagiwa |
| W | Wild and Wise | Wild and wise body of students; to encourage them to be strong to make own decisions, enthusiastic and challenging – to equip students with creativity and practical capability | Cultivate academic freedom under a spirit of self-determination and self-respect – in other words tough and savvy |
| I | International and Innovative | Increasing international collaborations with institutes, industry, governments and academia; – promoting innovative ideas | Working carefully with partners in industry and government to allow students to make the best practical use of abilities they have developed at the university |
| N | Natural and Noble | To create a natural and noble learning environment to study nature and history | Supportive learning environment and cultivate a noble spirit that allow students to follow a positive process of trial and error that will enable them to be more confident in the futures that they eventually choose. |
| D | Diverse and Dynamic | Diverse and dynamic yet open-minded to absorb various cultural and opinion diversities. | Develop educational pathways offering a hierarchical arrangement of diverse disciplinary knowledge and facilitating a wide variety of learning choices |
| O | Original and Optimistic | Original and optimistic to distinctive and bright ideas while remaining true to one's founding spirit/common sense | to cultivate the ability in our students to remain optimistic in the face of failure and criticism, and to use such failure and criticism as key experiences that will open out different angles on things and in fact will eventually lead to success |
| W | Women and Wish | Women and wish promoting gender balance and equal opportunities society. | Provide equal opportunities and maintain gender balance |
Considering President Yamagiwa's vision, I defined WINDOW for Disaster Prevention Research Institute as follows:
Disaster Prevention Research Institute would be a window for research, education, and social contribution
Acronym
Definition
Explanation
W
World-leading
Center of excellence leading and guiding the world in issues related to disaster risk reduction
I
Interdisciplinary
Interdisciplinary approach to research and education
N
Networking
Networking to promote cooperations with regional, local and international communities as well as with other institutions
D
Disaster Risk Reduction
Continuous contributions to disaster risk reduction
O
Observation and Experiment
Observation and experiment are strongly encouraged as basics for scientific validation
W
Wisdom
Accumulation of knowledge and experience through pursuance of research and social contribution initiatives
I believe, the above-mentioned keywords define the key role played by DPRI both in terms of being a WINDOW within the Kyoto University and as a WINDOW widely open for excellent research, education and social contribution in the fields of disaster prevention and mitigation.
What is your own window?