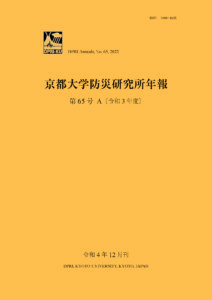 The Disaster Prevention Research Institute (DPRI), Kyoto University Annual Report No. 65, which reports on the activities in 2021, has been published.
In addition to the previous reports of A and B, this time, an additional section C is added to the report.
The contents of the reports, in particular, are as follows:
Report A covers:
Retirement Awards of Research Achievements and Special Contributions to: Professors James Jiro Mori, Manaby Hashimoto, Toshitake Kamai, Kinya Nishigame and Shigenobu Tanaka.
Disaster survey reports, and technical support reports
Report B:
Research reports and materials
Presentations at the DPRI Annual Meeting 2021
Report C:
Reports and data activities in response to the enhancement of self-inspection and evaluation of departments in accordance with mid-term goals:
Organizational management of research institutes
Research activities
International activities
Educational activities
Cooperation with society
Research activities of departments and centers
The DPRI Annual Report 2021 A, B and C can be access through Kyoto University Academic Information Repository.