Professor Norio Maki awarded 2022 Disaster Prevention Minister's Commendation
Professor Norio Maki received the 2022 Disaster Prevention Minister's Commendation for his meritorious services in disaster prevention by the Cabinet Office, Government of Japan
Details of the award are given below:
Name of the winner: Prof. Norio Maki
Name of the award: 2022 Disaster Prevention Minister's Commendation for Distinguished Contributors to Disaster Prevention
Reason for the accolade:
As an expert in disaster prevention and recovery planning, Prof. Maki has made proposals on recovery measures for the Great Hanshin-Awaji Earthquake from a professional point of view toward the creation of a safe and secure society. This has made a great contribution to the creation of a safe and secure society promoted by Hyogo Prefecture. In addition, he has contributed to pre-reconstruction of local governments (Kainan City, Wakayama Prefecture, Tokushima Prefecture, etc.) where there are concerns about damage from the Nankai Trough earthquake.
In addition to being involved in the formulation of plans, Prof. Maki has been appointed as a member of the Tsunami Evaluation Subcommittee of the Earthquake Research Committee, Headquarters for Earthquake Research Promotion, headed by the Minister of Education, Culture, Sports, Science and Technology, and is extensively engaged in examining tsunami prediction methods and using them to evaluate tsunamis. He has made great contributions to the enhancement of disaster prevention and mitigation measures not only in Hyogo Prefecture but also in Japan."
Award date:  15 September 2022
What is the Disaster Prevention Minister's Award for Meritorious Disaster Prevention?
This award is given to groups or individuals who have contributed to the implementation of disaster prevention activities, the dissemination of disaster prevention ideas, or the development of disaster prevention systems, and whose achievements have been recognized as particularly remarkable. (Cabinet Office)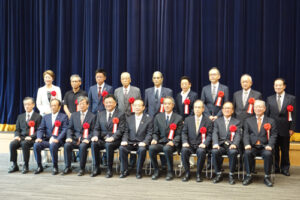 Prof. Maki is fourth from the left in the front row.