Study Visit by SEAMEO RIHED-JANU Seminar Participants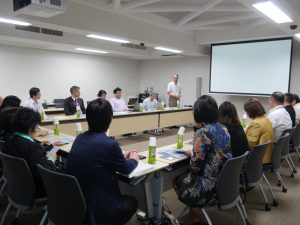 The First SEAMEO RIHED-JANU Seminar and Study Visit to Japan under the theme of Technology Innovation and Social Engagement for Sustainable Development was organized by the Japan Association of National Universities (JANU) and the Southeast Asian Ministers of Education Organization Regional Centre for Higher Education and Development (SEAMEO-RIHED) with the support of Kansai University, Kobe University, Kyoto University, Osaka University and Risumeikan University.
The first programme was designed for senior executives and administrators of Southeast Asian higher education institutions with extensive backgrounds and expertise in teaching and research.  The seminar and study visits are to provide in-depth insights into the Japanese higher education and research landscapes through an exclusive seminars and visits to leading higher education institutions throughout the Kansai region.
Participants visited the Disaster Prevention Research Institutes (DPRI), Kyoto University, Uji Campus on 27 June 2019.  Prof. Manabu Hashimoto, Director, DPRI and Prof. Hirohiko Ishikawa, Vice Director for International Relations, DPRI, met with the group. They received lecture presentation on in-depth research carried out by DPRI researchers and about the state-of-the-art research facilities laboratories.
In addition, they visited the DPRI Bosai Museum where they were given a guided and detailed tour by Mr. Hideki Matsuura.  The DPRI Bosai Museum, teaches about natural phenomena causes and effects and covers earthquakes, volcanoes, landslides, and other disasters.  It also disseminates advance research and innovations by DPRI researchers and introduces DPRI research facilities.  The museum includes a section for community participatory activities and an introduction to "Nige-tore" – tsunami evacuation drill developed by Prof. Katsuya Yamori's team.