5th Disaster Prevention Research Institute (DPRI) International Recognition Award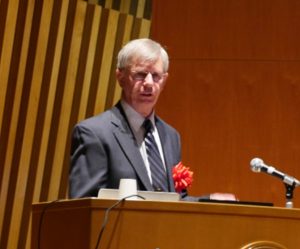 The Fifth DPRI Award for international research recognition was awarded to Prof. John G. Anderson, Nevada Seismological Laboratory, University of Nevada, USA during the DPRI Annual Meeting held at DPRI, Kyoto University, Uji Campus from 19th to 20th February 2019.
The award ceremony was held at DPRI, Uji campus, Kyoto University, Obaku Plaza, Kyoto, Japan on 19 February 2019. During the occasion, Prof. Anderson delivered a lecture on " Seismic Hazard Analyses in Three Decades of Research with Special Emphasis on the Importance of Quantitative Strong Motion Predictions".
For further details of the DPRI Annual Meeting (Japanese only).