Visit by Honourable Minister Maya, Ministry of Disaster Management and Relief, Government of Bangladesh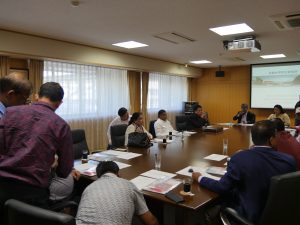 The Hon. Minister Mr. Mofazzal Hossain Chowdhury Maya, Ministry of Disaster Management and Relief; and Member, Parliamentary Standing Committee on Ministry of Disaster Management and Relief visited DPRI, Kyoto University, Uji Campus on 24th July 2018 on a study tour. The Minister was greeted by Prof. Norio Maki, Vice-Director, DPRI, and Mr. Yasuhiko Hironaka, Head, Administration Office.
The Honourable Minister Maya was accompanied by 5 other parliamentarians, a few other members of the ministry and the Mr. Mohammad Jobayed Hosen, First Secretary of the Embassy of Bangladesh in Tokyo.
After greetings, Prof. Maki delivered a lecture on Post-Disaster Management in Japan. The group visited the Geotechnical Centrifuge laboratory and the Wind Tunnel Laboratory prior to leaving DPRI.
The visit was arranged by the Government of Bangladesh under its initiative as a study tour on post-disaster management and to learn on disaster preparedness for effective disaster response and Japan's experience on post-disaster management.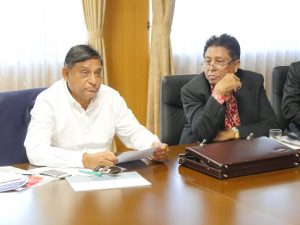 Hon. Minister Mr. Maya and
Hon. Chairman Mr. Shambhu, Government of Bangladesh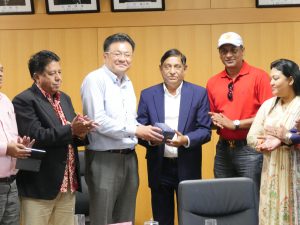 Prof. Norio Maki exchange souvenirs with the Minister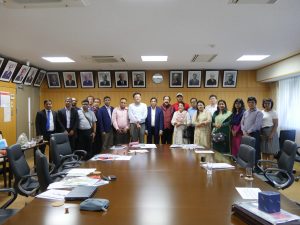 Group photograph at the DRPI Director's Office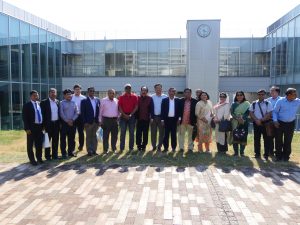 Group photograph in front of
DPRI, Kyoto University, Uji Campus