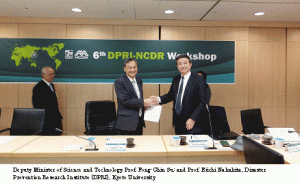 The 6th DPRI-NCDR Workshop was held at the National Science and Technology Center for Disaster Reduction (NCDR) in Taipei from 6 to 7 December 2017.  The Opening Remarks were delivered by Prof. Fong-Chin Su, Deputy Minister of Science and Technology, Ministry of Science and Technology; and Prof. Eiichi Nakakita, Disaster Prevention Research Institutes (DPRI), Kyoto University.  The workshop was attended by 50 participants among which 12 were from DPRI.
For further details on the workshop can be found at Newsletter NCDR.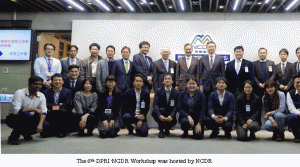 Following is the draft programme.
DRAFT AGENDA

6th DPRI-NCDR Workshop

December 6-7, 2017

Venue: National Science and Technology Center for Disaster Reduction (NCDR)

 
DAY 1: December 6th (Wednesday)
09:10
OPENING Remarks

Fong-Chin Su,

Deputy Minister, Ministry of Science and Technology (MOST)

President, National Science and Technology Center for Disaster Reduction(NCDR)

DPRI

Disaster Prevention Research Institute, Kyoto University(DPRI)

 

09:20
Group Photo
09:30
Session 1-1:  Meteorological  Hazards  

Chair:  Yi-Chiang Yu,  Division Head,  Meteorology Division, NCDR

Ben Jong-Dao Jou,

Professor,  Department of Atmospheric Sciences, National Taiwan University

Division Advisor, Meteorology Division, NCDR

 "Convective Variability in Northern Taiwan and Flash-Flood Storms in Taipei" (25 min)

Eiichi Nakakita,  Professor, Research Section of  Hydrometeorological Disasters, DPRI

"Advanced utilizations of the latest Japanese radars and the meteorological satellite Himawari 8 into early warning of severe storm and flash flood,  -the latest situation- " (25 min)

 

Pay-Liam Lin ,

Professor, Department of Atmospheric Sciences, National Central University

Division Advisor, Meteorology Division, NCDR

"Characteristics Of The Raindrop Size Distribution and QPE In North Taiwan" (25 min)

Q&A (5 min)

10:50
Tea Break
11:10
Session 1-2:  Meteorological  Hazards

Chair: Yi-Chiang Yu,  Division Head,  Meteorology Division, NCDR

Kosei Yamaguchi, Associate Professor, Research Section of  Hydrometeorological Disasters, DPRI

"Line-shaped heavy rainfall disaster occurred at northern part of Kushu in 2017 and its forecast by ensemble data assimilation of radar" (25 min)

 

Mariko Ogawa,  Specially Appointed Assistant Professor,  Office of  Promoting Regional Partnership,  Kobe University

"Estimating graupel particle size distribution and density using

 videosonde and C-band polarimetric radar" (25 min)

 

Jung-Lien Chu, Associate Researcher, Meteorology Division, NCDR

"The Identification of Synoptic Weather Types over Taiwan using Machine Learning Methods" (25 min)

Q&A (5 min)
| | |
| --- | --- |
| 12:30 | LUNCH BREAK   (CEOC Visit) |
13:30

 

Session 1-3:   Meteorological  Hazards

Chair:  Yi-Chiang Yu,  Division Head,  Meteorology Division, NCDR

Toshiya Yoshida, PhD student, DPRI

"A large-eddy simulation study of urban airflows and implications for urban weather forecasting "(25 min)

Tomoya SHIMURA, Specially Appointed Assistant Professor, Meteorological and Hydrological Risk Information Lab, DPRI

"Estimation of wind vector profile using small hexarotor Unmanned Aerial Vehicle (UAV)" (25 min)

Hsin-Hung Lin ,  Assistant Researcher, Meteorology Division , NCDR

"Applying Meteorological Big Data on the Decision-Making Supporting for Emergency Operation in Taiwan" (25 min)

Kuan-Ling Lin,  Meteorology Division , NCDR

" An implication of the tropical cyclone initialization scheme(NC2014) for numerical simulation near Taiwan" (25 min)

 

Q&A (10 min)

15:20
 Tea Break

15:40

 

Session 2:   Social System

Chair:  Hsiang-Chieh Lee,  Division Head,   Policy and Socio-Economics Division, NCDR

Kensuke OTSUYAMA,  PhD student, DPRI

" Community Recovery from Flood, Hinthada, Myanmar" (25 min)

Fu Hsing Lee,  Researcher,  Research Center for Disaster Reduction Systems, DPRI

"How to Face Disasters? The Meanings of Game-based Disaster Education Tools"(25 min)

 

Min Hui Tseng, Junior Assistant Researcher, Policy and Socio-Economics Division, NCDR

" The Factors Affecting Implementation of Community Based Disaster Management "(25 min)

 

Hui Hsuan Yang, Assistant Researcher, Policy and Socio-Economics Division, NCDR

"The quicker the better? Post-disaster Social Survey of Households Recovery of Typhoon Morakot"(25 min)

 
| | |
| --- | --- |
| 17:20 |  Discussion (10 min) |
| 18:30 | Welcome Reception-la marée(水源會館) |
DAY 2: December 7th (Thursday)
09:00
Session 3-1:   Geological and Hydrological Hazards

Chair: Chih-Hsin Chang, Division Head,  Slopeland & Hydrology Division, NCDR

Kazuaki Yorozu, Assistant Professor, Faculty of Engineering, Kyoto University

 "Initial soil moisture impact on flood peak discharge" (25 min)

 

Tomohiro Tanaka, Assistant Professor, Graduate School of Global Environmental Studies, Kyoto University

"Assessing flood risk reduction by

building restriction using a flood damage probability map" (25 min)

Hiroshi Takebayashi, Associate Professor, Research Center for Fluvial and Coastal Disasters, DPRI

"Debris flow due to the 2016 earthquake in Aso, Kumamoto" (25 min)

10:15
Tea Break

10:35

 

Session 3-2: Geological and Hydrological Hazards

Chair: Chih-Hsin Chang, Division Head,  Slopeland & Hydrology Division, NCDR

Sheng-Chi Lin, Assistant Researcher, Slopeland & Hydrology Division, NCDR

"Landslide monitoring activities and visual observation" (25 min)

Hsiao-Ping Wei, Assistant Researcher, Slopeland & Hydrology Division, NCDR

"Using Structural Measures to Reduce Flooding" (25 min)

Shen Chiang, Associate Researcher, Slopeland & Hydrology Division, NCDR

"A Preliminary Study of Short-Duration Heavy Rainfall in Metropolitan Taipei" (25 min)

 

11:50
Discussion & Conclusion (20 min)

 

12:10
LUNCH